Now You can bypass MEID Iphone with restart fix (Untethered) on windows computer. This Bypass will not fix Sim / Cellular. It Only bypass with restart fix. You can restart your iphone and bypass will remain, which means no relock.
Before there was free tools which cannot fix restart, Now its easy for everyone. Also this service was paid before but now you are getting it for free.
First you need to jailbreak your iphone for this bypass. It supports Iphone 5s to Iphone X only. This means only checkrain jailbreak iphone are bypassed by this tool. So First learn how to bypass your iphone and use this tool. we will provide download tool and some guide for this tool.
Some Highlights:
You Need to Jailbreak your device first for this bypass.
Supports iphone 5s to iphone X only
Only support which can be jailbreak by checkrain
Support Few Ipad models
Sim / Cellular wont fix by this bypass
Only MEID iphone are done by this method.
If you restart , your iphone wont be relocked again.
Don't update IOS and Factory reset and Erase your iphone which may relock icloud again.
Download Iphone Bypass tool for Windows which fix restart : 
Download bypass tool : Click Here 
Pass : gsmgeeky.com
Also:
You need to download Microsoft Net Framework : Click Here 
Download 3u Tools for Checkrain bootable pendrive and flash your iphone : Click Here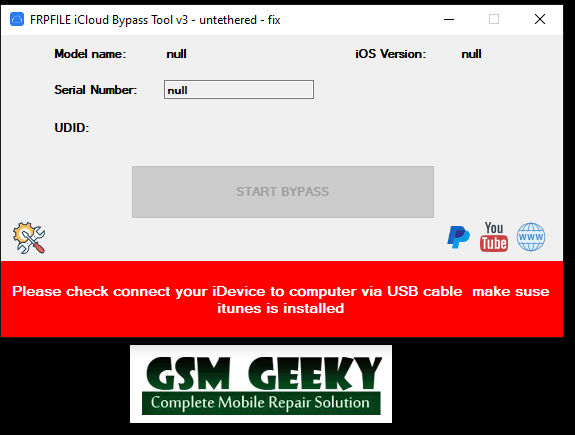 Instruction : 
Jailbreak your iphone with checkrain ( Use macbook or Windows it's your wish)
Don't forget to turn off your antivirus before install.
Download and install above bypass tool
Connect jailbroken iphone on computer/  laptop
Click on Activate and it's done.
Dont forget to give thanks for tool developers frpfile
This much in this post. If you Need any help , please write down in comments.