IPro Ramdisk tool is for bypass Passcode , Disable and Hello Screen Bypass which runs on IOS15 version. You can bypass Disable , Passcode and Hello Screen from this tool. This Tool is supported on windows PC. You have to change Serial via purple mode and need to connect on this tool. Please Repair Serial as given by IPRO team. This series may change so pelase follow team site or group before process. We will try to update as possible. Join Our Telegram Group for More Giveaways and Updates. GsmGeeky Telegram.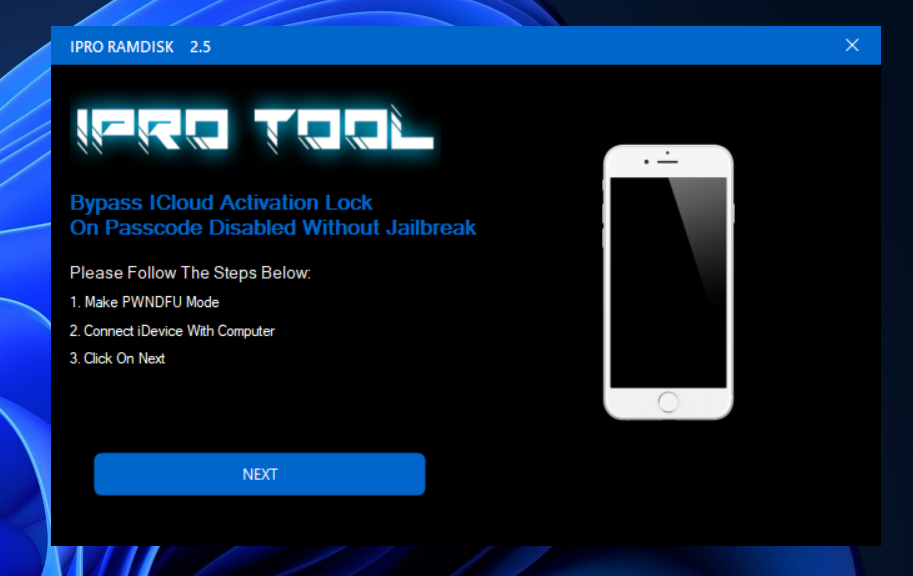 Also Read : 
Lpro AIO Ramdisk Tool for Disable Passcode and Hello Screen IOS15
HFZ Activator Passcode Premium Tool which support disable passcode ios 15 version
OsRamDisk 2.4 tool for passcode disable signal bypass
Some Highlights of this Post :
This tool works on Windows PC
You Dont get Signal / Call After this bypass.
Supported devices 6s to X which is on Hello Screen.
You dont need to jailbreak to use this tool.
This is paid service and tool, you need to register your ecid before bypass.
This tool support ios 15 above
All other functions work normally after bypass.
You cannot do reset and update after using this tool.
You Need to repair Serial via purple mode to use this tool.
You Need to fix drivers before entering pwndfu mode.
Steps to Bypass from this tool :
Repair Serial to DX8QWDEZFFG8 by using magic CFG or irepair Tool or bbox tool or any other tools.
Then connect phone on normal mode (Turn ON hello mode)
Click Read Info on normal mode (Turn ON hello mode)
Click Generate Activation Data on normal mode
After This :
Turn your Device on PwnDFU by iRamdisk Expert mac tool or use any other tools you know
Click on Bypass Boot 1 or
Click on Bypass Boot 2
If all steps goes correctly, You did successful bypass.
Do we Need to Jailbreak to use this tool ?
No, You don't have to jailbreak to use this tool. You need to connect tool and use preload function , pwned mode , ssh mode and restore activation backup. You need to install patched checkrain and i4.cn tool on your mac os. Find the download Link at below.
Download IPRO RAMDISK Tool for Windows PC :
IPRO RAMDISK TOOL v2.5 / Backup Link 
Join Our Telegram Channel for Regular update :
Join Our Telegram group for latest updates : http://t.me/gsmgeeky1
Join Our Whatsapp group for latest updates : (Group 4) http://bit.ly/gsmgeekywhatsapp4
Also read : 
iCloud Bypass MEID Device with Network/Signal Fix