iRemovalRa1n is a tool which is renamed of Checkra1n which works on Windows OS Version. This Tool is developed by ipfdz Team, The same tool who have "iRemoval Pro Meid Gsm Bypass Tool". iRemoval Pro was the 1st tool which came on windows tool support MEID icloud Bypass with Sim. Later following came iremove team , checkm8 team and other tools. Now you can use iRemovalRa1n i.e checkra1n on Windows PC directly without using bootable pendrive or disk. You can jailbreak iphone 5s to X which runs on ios 12 to 14.8 by this checkra1n. Now Jailbreak will be easy to all. Don't forget to say thanks to ifpdz team.
Also Read : 
Direct run checkra1n on windows without bootable pendrive
Lpro Boot Disk tool for Disable Passcode bypass support ios 15
HFZ Activator Passcode Premium Tool which support disable passcode ios 15 version
iRamdisk Expert tool for passcode disable signal bypass
Some Highlights about this post: 
You can Jailbreak on windows computer. Either you have Intel or AMD Processor computer.
This tool is developed by ipfdz and it is named as 'iRemovalRa1n"
You don't need Pendrive or memory card  for this. This is standalone App.
After this jailbreak you can bypass your iphone.
you can bypass iphone 6s to iPhone X  from this windows method.
Supported ios 12 to 14.8.
[ Frequently Asked Questions  ]
1 – Is this real ?
Yes sure, iRemoval PRO has been releasing such projects since almost 2 years and they made everything possible in Windows till now.
2 – Is this jailbreak app going to be released officially by checkra1n ?
No, this app has been developed by @ifpdz, the owner of iRemoval PRO and and will be under "iRemovalRa1n" name.
We will be collaborating with checkra1n team next time.
3 – Does it support iOS 15 ?
Our app support iOS 12 to 14.8.1 for now, we are waiting for checkra1n developers to make it possible for iOS 15 soon.
4 – Will iRemovalRa1n be paid or free ?
iRemovalRa1n will be free for use to everyone. It will be available inside iRemoval PRO v5.0 which will be released in few days.
5 – Does iRemovalRa1n has authorization from Checkra1n team to be released ?
Yes, Siguza and many other checkra1n developers are aware of our works and have given us the authorization to release it under a different name.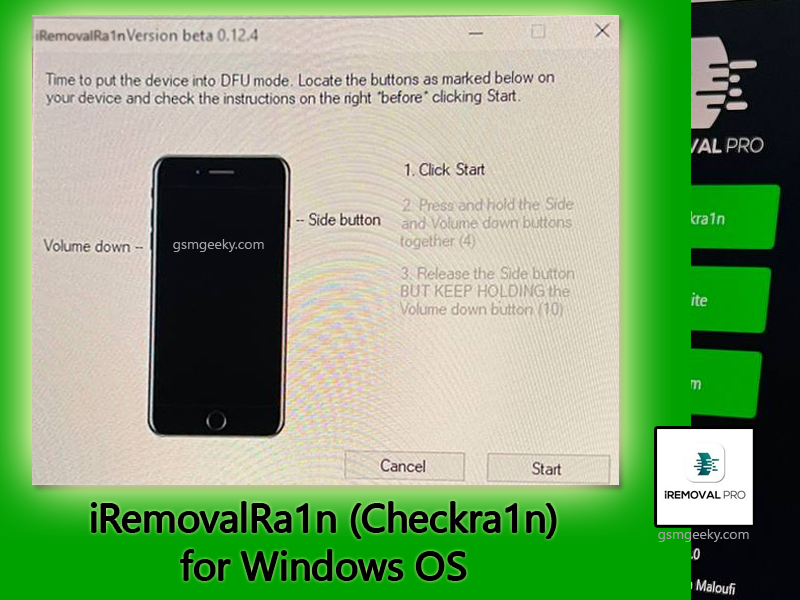 Can we jailbreak ios 15 Hello Screen iphone by this tool ?
No. This tool wont work on Jailbreaking Hello Screen ios till now. Till now Checkra1n team or any other team havent released ios 15 jailbreak. All are working and developing on new version of checkraqn. copied from gsmgeeky. We have heard that Jailbreak on ios 15 is Currently works only up to A9 ( iPad Mini 4, iPad Air 2, iPhone 6s, iPhone SE, and whatever iPad Pros have A9(X) ). We will give you more update soon about this.
Download "iRemovalRa1n Tool" for windows OS :
iRemovalRa1n (checkra1n) Tool / Backup Link
Download iremoval Checkrain v5.1.1 / Backup Link
iRemoval Checkra1n Tool v.5.1.2 / Backup Link
Join Our Telegram Channel for Latest :
Join Our Telegram group for latest updates : http://t.me/gsmgeeky1
Join Our Whatsapp group for latest updates : (Group 4) http://bit.ly/gsmgeekywhatsapp4
Also read : 
iCloud Bypass MEID Device with Network/Signal Fix