IPU Team are also repeatedly bringing tools for iPhone bypass and Repair for MacOS Users. They have tool IPU Pro Ramdisk Tool which can bypass Disable and Passcode with Signal working and IPU Hello Tool for Bypass IOS15 Hello Screen without Signal. You can Download Setup from gsmgeeky.com and Use on your MacOS System. The good thing about this tool is they have given good and cheaper price than any other till we are writing this blog (12th June 2022). This tool works same like others. It can bypass IOS15 version. You need to register your ecid before bypassing from this tool. Join our telegram channel for fast and regular news http://t.me/gsmgeeky1 In future we will try to cover all possible method and tool for you all. This tool suppor iPhone 6s to X Disable/Passcode/Hello Screen IOS15. You don't have to jailbreak to use this tool.
Also Read:
Lpro AIO Ramdisk Tool for Disable Passcode and Hello Screen IOS15
HFZ Activator Passcode Premium Tool which support disable passcode ios 15 version
iRamdisk Expert tool for passcode disable signal bypass
LURAM Ramdisk Windows Tool for Passcode Disable Bypass IOS15
IPRO Ramdisk Tool for Passcode Disable HelloScreen Bypass IOS15 Windows Tool
Some Highlights of this Post :
This tool only works on mac os only for now.
You Dont get Signal / Call After this bypass on Hello Screen IOS15.
You will get Signal after bypass on Passcode Disable Device after bypass.
Supported devices 6s to X
You dont need to jailbreak to use this tool.
This is paid service and tool, you need to register your ecid before bypass.
This tool support ios 15 above
All other functions work normally after bypass.
You cannot do reset and update after using this tool.
Features of this Tool :
❌Calls (Signal). No Signal after bypass ios 15 on Hello Screen IOS15
✅ You will get Signal on Disable Passcode IOS15
✅iMessage
✅FaceTime
✅iCloud Sign in
✅Notifications
one click bypass
✅ iPU SERIAL CHANGE CFG ADD
✅ AUTO REPLACE SN
✅ Autoswitch booting
✅ Autoswitch patching
Steps to bypass ios 15 with IPU Pro ramdisk and IPU Hello Bypass Tool:
1. Download and install the IPU Tool app
2. Enter DFU
3. Open Purple Pro or MagicCFG and set the serial number provided by the app
4. Enter DFU
5. Click Bypas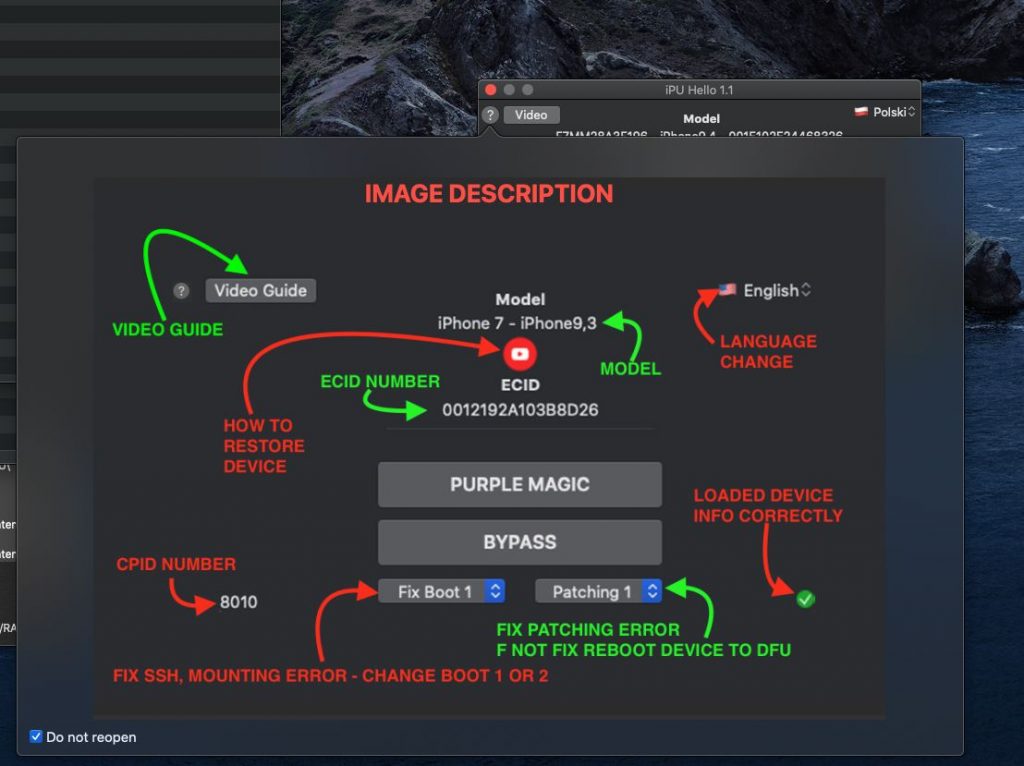 Supported iPad Devices for Hello Screen IOS15 :
NEW IPADS MODEL SUPPORTED NOW.
🌐A8 – iPad Mini 4 – iPad5,1 | iPad5,2 WiFi/Cellular
🌐A8X – iPad AIR 2 – iPad5,3 | iPad5,4
🌐A9 – iPad 5 Generation – iPad6,11 | iPad6,12
🌐A10 – iPad 6th Generation – iPad 7,5 | iPad 7,6
Do we Need to Jailbreak to use this tool ?
No, You don't have to jailbreak to use this tool. You need to connect tool and use preload function , pwned mode , ssh mode and restore activation backup. You need to install patched checkrain and i4.cn tool on your mac os. Find the download Link at below.
Download IPU Pro Ramdisk and IPU Hello Bypass Tool :
IPU Pro Ramdisk Tool / Backup Link 
IPU Hello Bypass Tool / Backup Link
---
IPU Pro Ram Tool v1.9 / Backup Link
IPU Hello Bypass tool v1.4 / Backup Link
---
---
IPU Pro Ram Tool v2.0 / Backup Link
IPU Hello Bypass tool v1.5 / Backup Link
Download MagicCFG Free Tool for Serial Repair on MacOS :
Join Our Telegram Channel for Regular updates :
Join Our Telegram group for latest updates : http://t.me/gsmgeeky1
Join Our Whatsapp group for latest updates : (Group 4) http://bit.ly/gsmgeekywhatsapp4
Also read : 
iCloud Bypass MEID Device with Network/Signal Fix